Following the recent completion of a bespoke supercar garage project we talk to Daniel about his love of the job and designing the one-off scheme.
The Early Years
Daniel's love of drawing from a young age set the seal on his likely future career.  With the added realisation, aged 15, that construction, and specifically urban design, were also areas of interest, he studied architectural technology to gain a better understanding of how buildings work, how they are constructed and how they comply with building regulations.
Graduating with First Class Honours from Northumbria in 2017, with his passion for the subject clearly established, he was nonetheless filled with a little trepidation at the prospect of designing a building which would house such a loved possession. He recalls:
"I was definitely a little apprehensive, but excited to get started.  I was so pleased that HL placed their trust in me to manage this project and for giving me the support and training required to ensure a positive outcome, under the watchful eye of director, Neil Turner.
"For me, being able to create something tangible is fulfilling, rather than simply drawing on a computer screen.  Seeing your designs become reality and transform the users' living and working environment is so rewarding.  A career in architecture was always appealing and was an ideal pathway to explore my passion and creativity."
The Brief
The project, situated at an historic estate in County Durham, consisted of the demolition of a timber garage, considered obsolete by the client, and the design of a replacement, luxury, stone-built double garage, incorporating a snug area with a log burner.
Daniel successfully delivered all stages of the RIBA Plan of Works – a great learning opportunity – as well as managing contract administration, chairing site progress meetings and producing health and safety assessments. The project was delivered using Revit software to facilitate collaboration with the structural engineer's design solutions.  Visual outputs generated by Daniel enhanced the design development process, aiding visualisation of the finished product.
Influences
The design was heavily influenced by the historic estate itself.  Daniel continues:
"The building sits within a conservation area surrounded by listed buildings, so we used natural materials of rubble sandstone and slate roof tiles to complement the surrounding environment, whilst also complying with the estate's requirements.
"Clean, crisp interiors were important.  We included feature timber glulam trusses with specialist lighting with the end goal being to provide the user with both a practical and social space – the log burning stove providing a bespoke feel, unique within a traditional garage design."
Insights
"Working closely with other members of the design team was a major factor in the project's success as well as experiencing the continuous progression of the project when attending site meetings and seeing a happy client at the end. That was personally rewarding."
Client feedback
"The original timber garage was out of keeping with the original house, not least because of its almost Alpine appearance.  We wanted to build something that would look and feel more appropriate in its surroundings and give us the garage, combined social space and "wow" factor that we were after.
"Daniel has taken all of our requirements on board and designed a garage fit for a supercar and in keeping with the historic estate in which it's situated.  We've still got a bit of work to do the get the social space the way we want it but I'm sure we're going to get plenty of use out of it.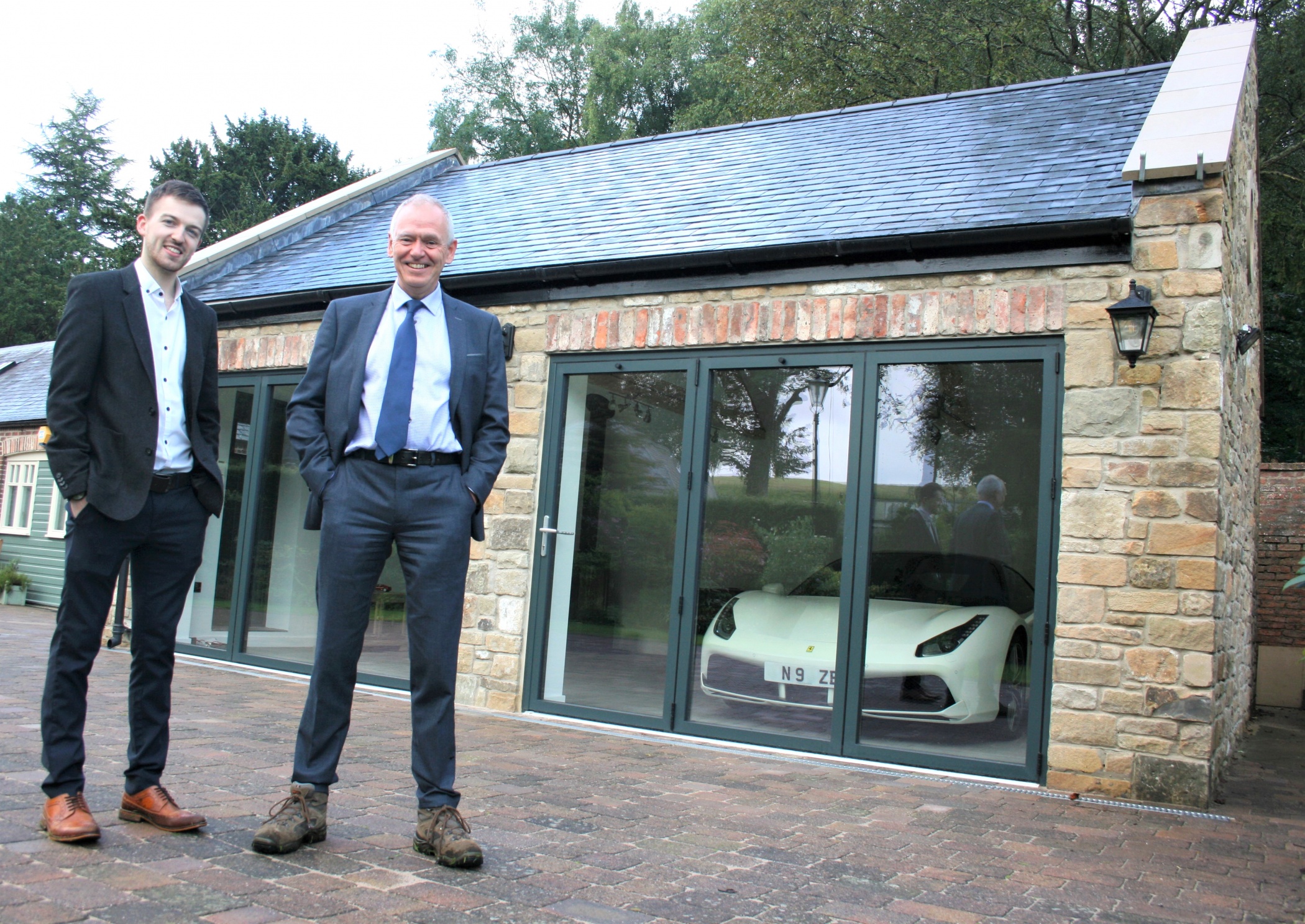 Now working on…
…A range of high quality and eco-efficient homes in Milton Keynes and the Cotswolds which use eco-friendly technologies and cutting-edge manufacturing processes:  closer to home, the refurbishment of an independent Methodist church to provide enhanced community facilities, which will assure the building's place at the heart of the local community.
Both projects utilise BIM and HL's new VR equipment, which provides clients with a greater understanding of the project before signing off on proposals.
The Dream Project
"As a sports fan a specialist sport complex for a major world event would be top of my list – maybe a project for the World Cup or Olympic Games – but more realistically, I believe housing is the most influential piece of architecture in our lives, shaping the way we live and grow.  I would love to design a bespoke residential home, somewhere peaceful with open surroundings and beautiful scenery and sunsets, allowing me to test my photography skills at the end of a busy day!